Newsletter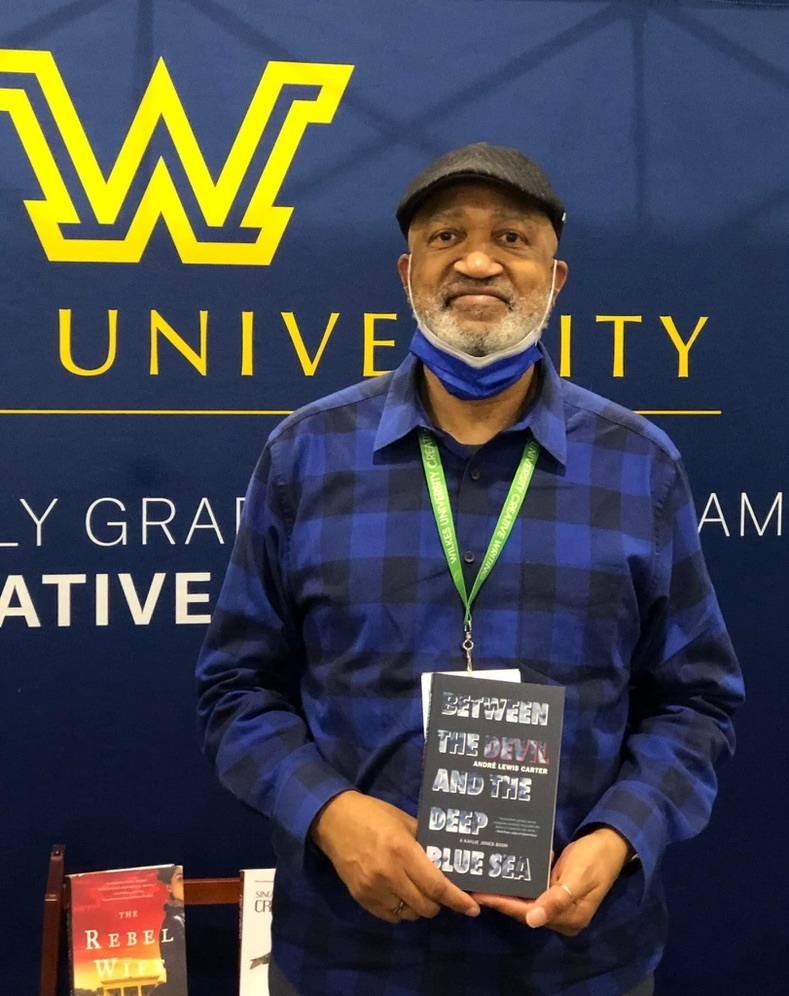 Periodic information about what André is up to.
12/27/2021:
See a brief discussion on the Kaylie Jones Books Youtube channel, "Civil Discussions," where I talk about the Sam Greenlee book, one of many influences, I harkened back to as I began writing my novel.
01/04/2022:
Had a wonderful virtual book launch! You can see it here:
01/24/2022:
This year marks the 50th anniversary of the riot aboard the USS KITTY HAWK which I depict in my new novel. Another sad milestone happening this year is that the ship, a one of a kind US non-nuclear carrier, is being scrapped for the grand price of a mere 1c. You can read about it at the link below. Thanks to J. Michael Lennon for sharing.
a-last-of-its-kind-us-navy-aircraft-carrier-is-headed-to-the-scrapyard-after-being-sold-for-a-cent/ar-AASUruQ?ocid=msedgntp
2/18/22
Thanks to fellow author Mckenzie Cassidy ("Here Lies a Father") for posting to Face Book:
"Got my signed copy of #BetweenTheDevilAndTheDeepBlueSea from André Lewis Carter at Kaylie Jones Books! It joins my signed copies of #books for #BlackHistoryMonth and beyond (The Nickel Boys & The Other Black Girl). #fiction #readersofinstagram"
04/10/22
Had a great time at AWP 22 in Philly a few weeks ago. It was cool to be able to comingle with fellow writers and readerts. It's was also kind of cool to discover that my alma mater quoutes me on the school website!
04/26/22
Check out my podcast interview with Keith Haney.
https://www.buzzsprout.com/1546138/10493289
04/27/22
I had a Lively chat with Demond, host of the "Demond Does" podcast. You can hear it on Apple podcasts or click the following link:
https://podcasts.apple.com/us/podcast/demond-does/id1501532377
05/12/22
Had a blast talking to a former classmate, Tara Marta, who has a YoiuTube channel she generously asked me to appear on. You can check it out here:
YouTube: Tea with Tara onYouTube
05/24/22
Thanks to Adam Scull for hosting me on his podcast, "eatsleepwrite." His podcast, and accompanying website, "eatsleepwrite.org," are great places to hear writers talk about writing. You can hear the discussion hear:
https://eatsleepwrite.org/podcast-author-andre-carter/
05/30/22
Another beautiful day and another great interview, this time with the host of ADQ's Renaissance podcast, which you can find on Apple podcasts.
06/02/22
I'm thankful for the love coming my way from local media.
I was interviewed by Amy Tan of the Oregonian newspaper in Portland, and by the hosts of the early morning show, "AM Extra,"on KOIN tv. I also did an interview with the hosts 0f "Black Book Talk," a show broadcasted by local public radio station KBOO. Later this month I will be discussing my novel at the local library where much of the book was written.
06/07/22
I enjoyed a fun discussion with the hostess of the Book-a Holic YouTube station and Podcast. Links to follow.